Stories Carved in Stone
By Mary E. Gage & James E. Gage
Published by Powwow River Books (c)2003
Description
Stories Carved in Stone: The Story of the Dummer Family, the Merrimac Valley Gravestone Carvers, and the Newbury Carved Stones,1636-1735 focuses on a remarkable collection of early American folk art found in Byfield Parish, Newbury, Massachusetts. This collection of folk art has been the subject of scholarly research, scientific curiosity, and even local folk lore. Yet, it has for the most part remained a mystery. Who were the artists? Who commissioned the works of art? When were they done? After seven years of exhaustive research, the authors have pieced together the answers to these three questions.
This collection of art is composed of nine pieces carved into stone. Each piece in the collection was both a piece of art and a functional item. Four of the pieces were milestones that mark mileage between cities, four pieces were doorstones which served as formal steps into a house, and the ninth stone was a walkway stone protecting the people from getting their feet mired in mud. Milestones, doorstones, and walkway stones were common items in colonial New England. However, the nine stones found in Newbury are the only known examples in colonial America carved with folk art. Why Newbury, Massachusetts? What unusual circumstances gave rise to this exuberant outburst of artistic creativity?
Stories Carved in Stone chronicles the history of these nine carved stones from three different perspectives. The first section delves into the first three generations of the Dummer family of Newbury. The Dummer family was responsible for commissioning the collection. The second section focuses on the artists who carved the stones. Five of the eight artists involved were rural gravestone carvers from Essex County. The third section discusses the artwork itself. It probes the meaning behind the artistic and geometric designs, where they came from, and the secret set of clues left by one of the gravestone carvers. 8 1/2" x 11", 190 pp. 98 Illus.
Table of Contents
PREFACE
THE DUMMER FAMILY OF NEWBURY, MASSACHUSETTS
INTRODUCTION
THE FIRST GENERATION
THE SECOND GENERATION
THE THIRD GENERATION
THE MERRIMAC VALLEY GRAVESTONE CARVERS
INTRODUCTION
JOHN HARTSHORN (1650 Ė 1738)
ROBERT MULLICKEN, SR. (1668 - 1741)
ROBERT MULLICKEN, JR.† (1688 - 1756)
JOHN MULLICKEN (1690 - 1737)
JOSEPH MULLICKEN (1704 - 1768)
THE NEWBURY CARVED STONES
THE CARVED STONES OF THE DUMMER FARM
Introduction
1636 Doorstone
1640 Doorstone
1690 Doorstone
Motherís Stone
Origins of the Designs on the Motherís Stone
Fatherís Stone
THE MILESTONES IN NEWBURY
Introduction
Milestone 33
Milestone 34
Milestone 35
Milestone 36
Milestone 37
CONCLUSION
GLOSSARY
APPENDIX A - GRAVESTONES USED IN THIS STUDY
APPENDIX B - MOTHERíS AND FATHERíS STONE CLUES
APPENDIX C - BURYING GROUNDS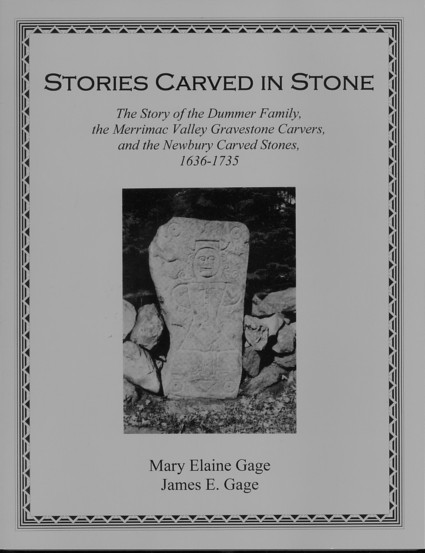 Copyright © 2004. Powwow River Books. All Rights Reserved.

<![if !supportLineBreakNewLine]>
<![endif]>